Well, hunted around and saw this thing in the back of my buddy's barn, didn't mean anything to me till he told me it had a propane powered 460 as the heart. Sure enough, fired right up and ran like a top. Looked around and it has some minor surface rust, but it's immaculate inside the motor, it also only has 148 hours on it. Double belted alternator and a huge oil pan, I'm talking close to 2 gallons. What it was used for was a backup water pump at a JEA plant.Trying to find some specs on it as it's going into a bronco mudder I'm getting ready to sell so all the info I can get is appreciated.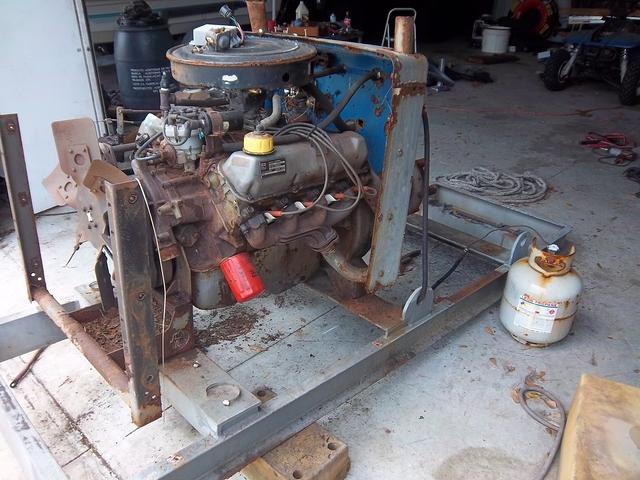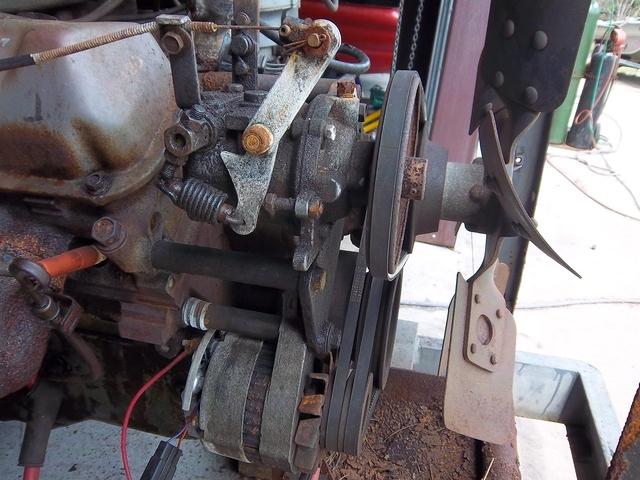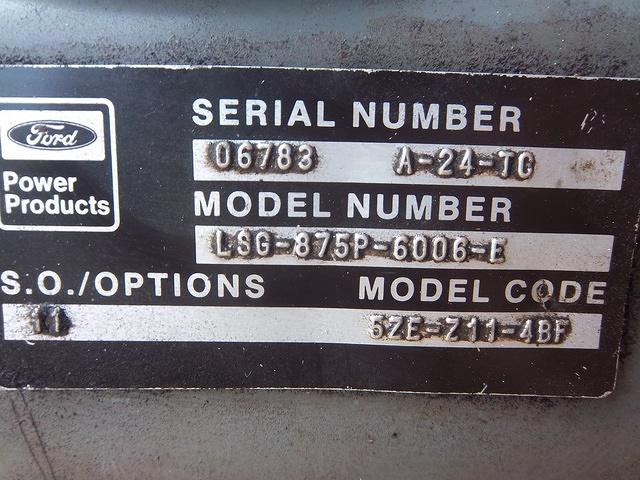 SOUNDS LIKE A COOL FIND WITH ONLY 148 HRS
Moderator





Posts

: 10688


Join date

: 2008-12-02


Age

: 46


Location

: MILLBROOK , AL.



As long as it has hardened seats and valves propane engines run for a long time and are very clean inside. Good score I would think.
BBF CONTRIBUTOR





Posts

: 2856


Join date

: 2009-07-14


Age

: 49


Location

: Lafayette, LA



Looks like a 429/460 industrial engine. They were used to power a road grader, concrete hauler or other large equipment. Also, a large generator or pumps of all kinds. That fan blows air away from the engine probably through a large heat exchanger.



Posts

: 5218


Join date

: 2008-12-02


Location

: Roseville, Michigan



Yep, and industrial engine for sure. There were high compression versions of these out there, but not sure if this is one or not. The HO versions had forged pistons vs. cast and usually had the DOOE intake on them. There were DOOE intakes on some of the standard C/R versions also. That piece on the side with the belt is a governor so it would maintain a steady rpm for pumping. Kind of unusual that it has cast exhaust manifolds as most had some sort of a fabbed header on them. The second pic is of a governor for regulating the speed for pumping. It should have D3VE heads and these came with induction hardened seats from the factory. Very low hours for sure, as most of these engines that are running around here will have 500-1000hrs/yr on them. Nice find.




Posts

: 4538


Join date

: 2008-12-02


Age

: 48


Location

: Holdrege, NE



Wow, plenty of info here. Is there any markings on the intake or anywhere to mark it as a DOOE intake? I'm getting ready to pull it off the gear box and onto the stand for a good look inside, but from looking inside this thing it looks immaculate, no wear that I can see, no gunk, no water, nothing. Very happy so far, I'll take pictures of any more markings I find as I go. Thanks a bunch guys.
Yes, the DOOE will be cast into an intake runner.




Posts

: 4538


Join date

: 2008-12-02


Age

: 48


Location

: Holdrege, NE



Awesome, got something new to look for tomorrow. Some rust on the intake but it shouldn't be to hard to find. Thanks man

.
I would be interested in the oil pan and pick-up if you wanted to sell them.
I have a V-drive boat and a larger capacity oil would be cool.

I sent you a PM.




Posts

: 88


Join date

: 2009-01-04




---
Permissions in this forum:
You
cannot
reply to topics in this forum