Page 2 of 2 •

1, 2

Have to agree with the K.I.S.S. header building approach. Bolt on the flange, put the collector where you want it, & start stacking tubing to fill in the rest.

Some of the "tricks" for mocking up the header tube shape before actually cutting the first actual J-bend (like flexible tubing, welding rod, pvc tubing, etc) are pretty much a waste of time/money IMO. The flex tubing never really accurately represents a tight radius J-bend, & pvc straight's & elbows are even worse. And the welding rod trick might give you a basic idea of the bend, but not how the actual bent tubing will stack against it's neighbor. So in the end you are still making an educated guess when using the mock-up stuff.....just like you would if you just started with the actual J-bend instead.

If you absolutely can't get the header job done without using some form of tube mock-up tool, a better idea IMO is to just buy an extra J-bend & sacrifice it (by chopping it up giving you various lengths of straights & bend angles) to use as mock-up tools.


About the only "header making tool" I have ever found that really does help is using a simple hose clamp to align the weld joint between two pieces of header tubing before you tack them. Just take a regular SS hose clamp & drill 3 or 4 holes around the band. The 3-4 holes don't need to be real big, just big enough to have enough room to get a the tiny tack welds in there.

DILLIGASDAVE




Posts

: 2237


Join date

: 2009-08-07


Location

: Texas. pronounced "texASS"



gonna have to build some new fender exits for the 632 C head deal..... is it wrong that I look forward to this??

richter69




Posts

: 13649


Join date

: 2008-12-02


Age

: 48


Location

: In the winners circle



richter69 wrote:gonna have to build some new fender exits for the 632 C head deal..... is it wrong that I look forward to this??
Headers are our favorite things to build. Each one presents a new challenge.

whatbumper




Posts

: 3024


Join date

: 2009-11-11


Age

: 39



First of all - for a layman this process is time consuming and frustrating.
For a home mechanic I have ~20 hours into the mockup headers. 6 tubes to be precise. Pass completely mocked and 2 tubes on driver are in progress.
I choose to use an inline collector for max street clearance on a lowered car. There were significantly more bends when I tried mockup with a traditional collector.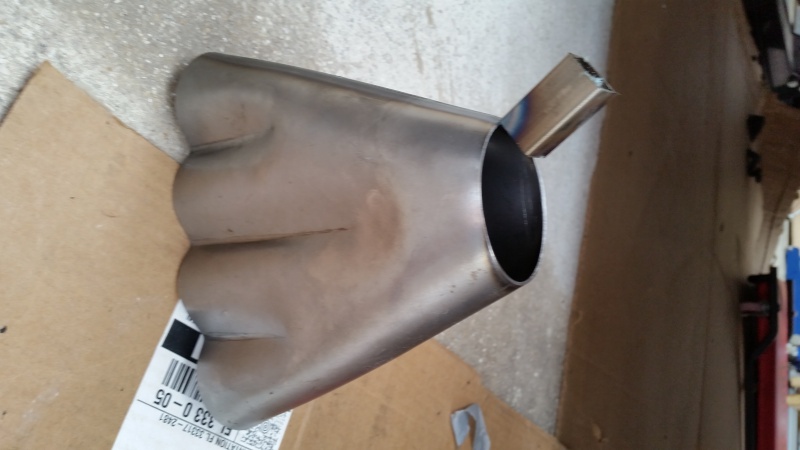 Mockup of collector in the car:
Top view of mockup:
https://i.servimg.com/u/f18/19/29/35/79/20150812.jpg
Starting the process: MOTHER F*ing PROCESS! BASTAGES
https://i.servimg.com/u/f18/19/29/35/79/20150813.jpg
Mocked up (tacked passenger side): PS. Flanging the tubes with even a partial bend is and absolute
nightmare
. Tubes are not fully molded not is anything fully welded. My intent is to flare the tubes fully and tack weld the exterior more. The tig the inside tubes. Once completed mount a spare head to the welding table and fully secure flange to head and burn in outside.
https://i.servimg.com/u/f18/19/29/35/79/20150814.jpg
Driver side to crappy to show yet...
BTW - these are 1 7/8 to 2.5" collector. I will immediately transition to 3" for the x pipe.
Try not to laugh to hard. -Joe


MustangBBF




Posts

: 36


Join date

: 2015-06-10



Well, that's an interesting idea. I like it.

Jess

Mustang-junky




Posts

: 432


Join date

: 2011-12-03


Location

: Central New York. The state, not the city.



Never be afraid of failure with something you can do again................No Guts No Glory.


airford1




Posts

: 154


Join date

: 2009-10-15



Very true, thank you for that.
When I started this I definitely did not have this picture in my head. After starting this process I ended up here.
Not pretty or completed yet but they will get the exhaust out.

MustangBBF




Posts

: 36


Join date

: 2015-06-10




airford1




Posts

: 154


Join date

: 2009-10-15



Page 2 of 2 •

1, 2

---
Permissions in this forum:
You
cannot
reply to topics in this forum