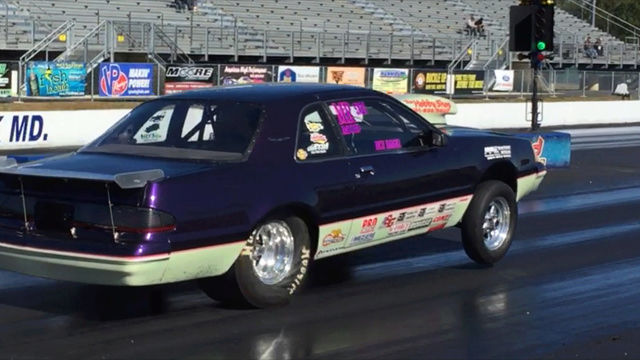 Finally made it back to the track last weekend.  I went to the ford Race At Maryland International Raceway.  I put my delay box in and ran both Top and Mod ET.  It was the first time I actually raced in Top ET.  I went three Rounds
in top and lost due to my error of pushing through the beams before the brake was applied.  I lost third round.  
I also went four rounds on Mod ET.  I lost in the Fourth  round when my car would not fire due to a dead battery. ( Damn It)
All in all I made 11 passes on the car.  It ran Between 5.91 and 5.98 all day long @117 MPH.  This was over 10 hours and changing track conditions.  I was bummed out and happy all at the same time.  I had no
expectations and the car actually won me more rounds than I did.  
My 16 year old son was there helping and the only things we did at the track was fuel, tire pressure, and charge the battery.  
My son took this picture.  I though I would share.
congrats.nice bird




Posts

: 8992


Join date

: 2008-12-03


Location

: Jackson, Ohio



I was there also but regret not seeing you.  Did meet a lady in the stands who's father was running both Mod and Top and it was a t-bird.  Just not sure if it was your daughter or not. I think it was you though. 3rd round went red when car rolled the beams.



Posts

: 436


Join date

: 2009-08-08


Age

: 52


Location

: Harrington DE



That's correct. My daughter showed up later in the evening and was in the stands. Ill have to hit you up next
time and we will have to meet up.
Glad you got to the track and did well.



Posts

: 1168


Join date

: 2009-08-19


Age

: 59


Location

: Jasper, TN



Damn nice bird!!!... get you some front end limiters!!!

BBF CONTRIBUTOR





Posts

: 831


Join date

: 2010-10-01


Age

: 55


Location

: Grand Prairie, TX.



I was thinking about the front end limiters, however I did not know if it would upset the traction, or the balance
of the car. (Read) Don't know anything about front end limiters.

---
Permissions in this forum:
You
cannot
reply to topics in this forum