In my 56 I have a sumped factory tank and I was planning on running an external A1000 pump for my efi 460. I am having the car mini tubed and I don't know if the factory tank will fit anymore so I am looking for ideas on using a factory fuel pump hat (from a mustang or something) on a different stock tank or fuel cell without spending $500-700 bucks on a whiz bang billet aftermarket hat. Once the rear frame rails are moved over that will determine what tank or cell I can fit.
I like the look of the Aeromotive Stealth systems.
https://www.aeromotiveinc.com/product/phantom-340-stealth-fuel-system/
The walbro pumps seem quite popular for the other aftermarket hats I have seen. The pumps are very reasonable priced its just the billet stuff that is pricey.
I don't see why it would be very hard to just make something like this with -6 fittings welded on and run one or two Walbro 450 lph pumps and adapt it to whatever tank I use.
I have a b/n fuel cell so welding on a different flange is easily possible.  I am just looking for other peoples thoughts, comments or suggestions.
http://www.tanksinc.com/index.cfm/page/ptype=product/product_id=227/mode=prod/prd227.htm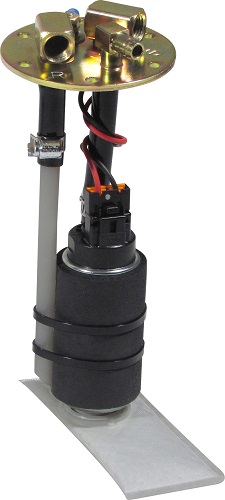 I hope I understand your questions well enough and can give some proper input. Let me show you a setup I built. I used a Tanks Inc EFI tank with the EFI pump hole and mounting setup up top, although, you could also use a reqular tank and weld your own in. I needed a larger set of fuel lines and pump than was offered in any kit. So I made my own flange, welded in some NPT style bungs, welded in a supply and return tube, also welded the proper tapered seat fitting (AN cap with a hole drilled in it) at the bottom of the feed tube and used a stainless steel sock and fitting setup from Fuelab.



Posts

: 3128


Join date

: 2010-02-13


Age

: 24


Location

: Michigan



For some reason I do not see any images.



Posts

: 3128


Join date

: 2010-02-13


Age

: 24


Location

: Michigan



Looks good. I was thinking the same thing.

---
Permissions in this forum:
You
cannot
reply to topics in this forum