Hope you guys can bare with me and/or find this information helpful. I have 5 different C6 governors that I have disassembled, weighed each valve and found each valve's spring tension. All tension #'s are measured if spring is depressed into each valve's bore to edge of valve. I can tell you do not judge a governor by it's governor body part number alone, the internals can have some surprises.
1st Governor: C6AP-7A300, not sure of vehicle application.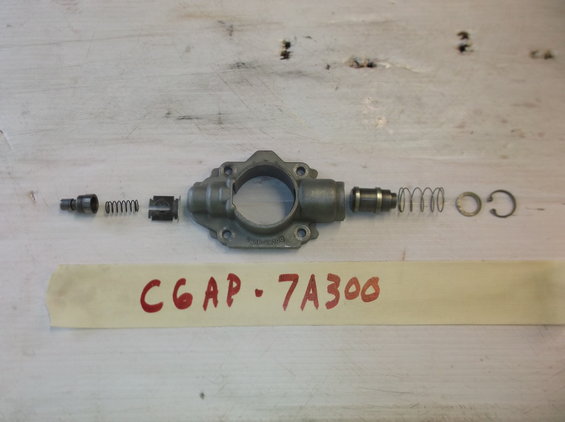 Note primary valve design and spring design/location differs from all other governors.
Primary Valve: 64.5g or 2.27oz  Spring tension: 11oz @ .150"
Secondary Valve: 17.1g or .60oz  Spring tension: 38oz @ .264"
2nd & 3rd Governor: RF D4AP-7A300-AA, '76 T-bird, have 2 of these exactly the same valves and roughly same spring tensions.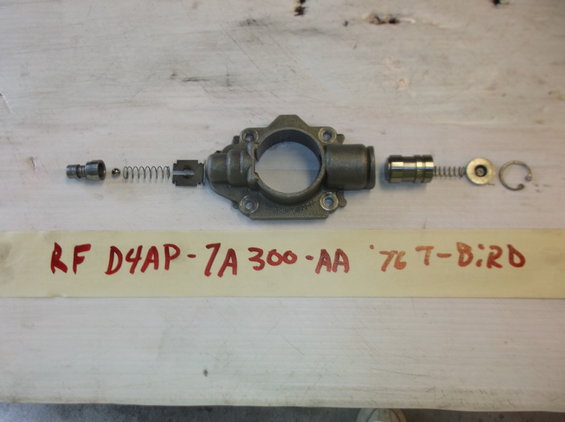 Primary Valve: 66.8g or 2.35oz  Spring tension: 9.8oz @ .325"
Secondary Valve: 16.6g or .58oz  Spring tension: 38oz @ .264"
4th Governor: D4AP-7A300-AA, '80 F150 W/ 302(note governor body number and internals compared to both other D4AP units)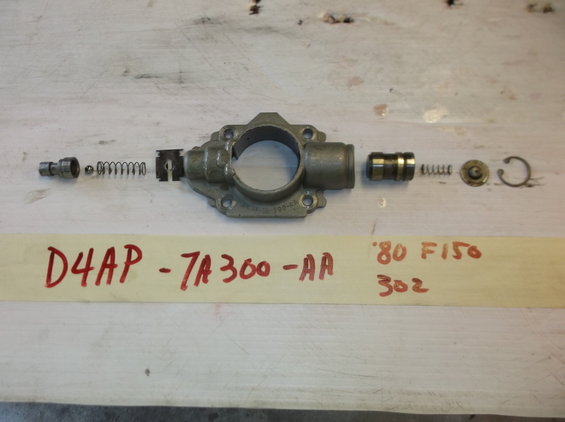 Primary Valve: 66.6g or 2.34oz  Spring tension: 13oz @ .202"
Secondary valve: 14.1g or .49oz  Spring tension: 32oz @ .264" Note 1/4" check ball found inside, again like the other D4AP governors.
**Cavity in Secondary valve measured from edge of valve: .800" L X .219" diameter**
Here are pics showing differences in this valve compared to the other D4AP Secondary valves:
Top valve with rings is from '76 T-bird, lightened valve has no rings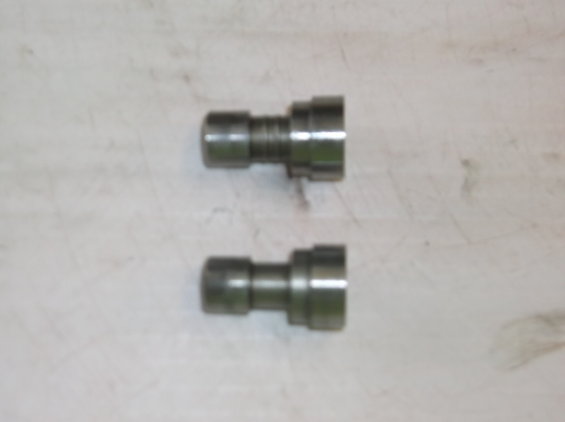 Shows center cavity of both, T-bird top and '80F150 on bottom: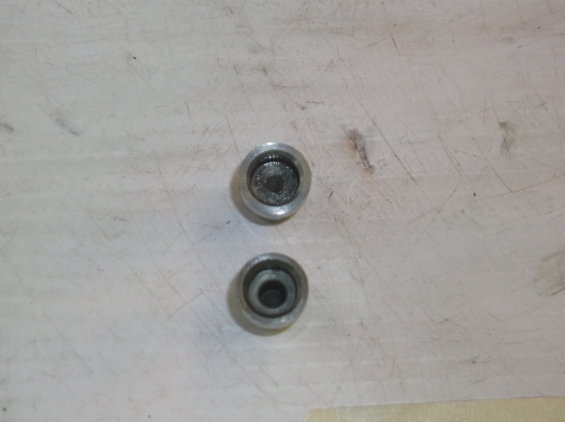 Shows differences in overall depth of cavity measured from edge of valve: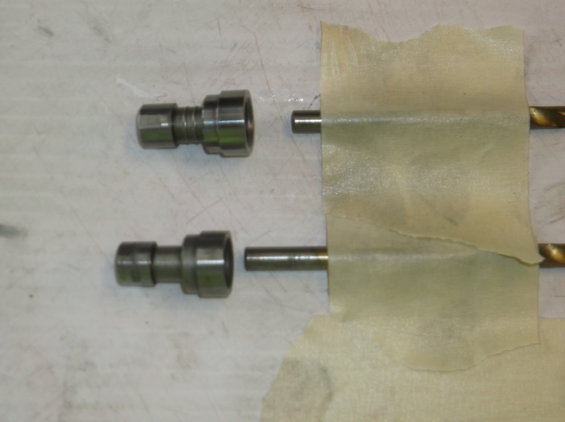 Top valve has a depth of .264",  bottom lightened valve has a depth of .800" X .219" dia
5th Governor: RF E4TP-7A300-AA, NON-DIESEL APPLICATION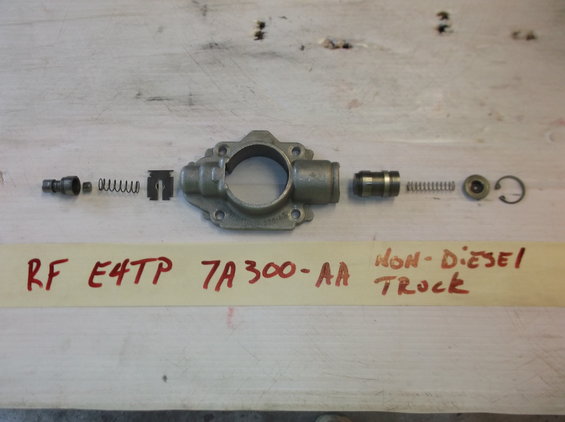 Primary valve: 67.7g or 2.38oz  Spring tension: 9oz @ .466"
Secondary valve: 16.7g or .58oz  Spring tension: 35oz @ .265"
Extra secondary valve weight:1.7g or .05oz, as reference a 1/4" steel check ball weighs 1.0g or .03oz
I apologize for the long posting, but hope this info is somehow helpful to the members here.
Nice Work. Must take note of some I have . Be interesting to test different ones .
No wonder some shift a bit different




Posts

: 455


Join date

: 2009-08-09



Greg,
The Hi-Po C4 valve body/governor information you so graciously sent me, had me wanting to investigate my C6 governors further in an attempt to tweak my C6's shift characteristics. The biggest surprise was the lightened secondary valve in a truck governor, it looks like they tried to "temper" the shift rpm(lower the WOT shift rpm) somewhat by installing the 1/4" check ball to effectively making the valve heavier by 1.0 gram. The "truck's" secondary valve is 16% lighter as compared to the other D4AP secondary valves I have on hand as well as a lighter tensioned sec. valve spring. In all these governors(other than the 2 T-bird units) there were very few consistencies, either in valve weight, spring tension or spring bore depth within the valves. I have previously heard there was just a "car" and a "truck" C6 governor(plus a Hi-Po CJ version) with not many variations, FWIW this little investigations proves differently. No wonder there is just so few articles regarding C6 governor modifications(possibly due to so many variables involved). It will be interesting to see how my WOT shift and mid-throttle shift characteristics are effected when I re-install my governor with the lighter secondary and primary valves(drilled/lightened to 62.5 grams) along with the lighter tension secondary spring.
Update: Changes made to governor and valve body shift spring tension have given great initial results, part to mid throttle shifts are not only at a higher rpm but also feel more positive/quicker. The installation of the 15-16% lighter secondary governor valve seems to have really helped the shift characteristics to get them where I wanted. I have yet to do a WOT run due to making sure no adverse affects from all that was done(slipping or other shift issues). Part throttle shifts are roughly 800 rpm higher, 1-2 shift happens @ 22mph and 2-3 shift is roughly @ 40 mph, still looking to tweak/tune modulator, may have went too far with Mod. rod pre-load. More testing needed to verify changes helped downshift at stop issue(too low mph), modulator pre-load changes may/should have an impact on this. Once more road miles accrued I should, hopefully, have a more detailed reply with positive reults.
Great feedback Todd. Those shift speeds would be about right . This will stretch the shifts out a touch more with more throttle . Well done.
I have found with modulator , more spring tension by adjusting the screw in they actually become more sensitive/ responsive as in drop down gears a little earlier





Posts

: 455


Join date

: 2009-08-09




---
Permissions in this forum:
You
cannot
reply to topics in this forum