Meziere electric water pump (#WP108S) and backing plate - both black anodized. $325 + shipping
Trick Flow R-Series Mafia Intake Manifold for Big Block Ford 385 series.  This has the Dominator carb flange.  Trick Flow
R-Series Intake Manifolds for Ford 429/460 TFS-53400112. Used very little, in great condition. This has not been ported.  $375 + shipping
Custom API 9" 4500 rpm stall converter for Ford C6 tranny. Excellent shape, ran flawlessly in my 69 Mustang.  Ran it with the motor below, believe it has the small pilot.  $300 + shipping
Everything else on my 545, just let me know what parts you are interested in, wiped a cam lobe on a fresh rebuild. Located north of Columbus, Ohio:
Engine:
-545 cid shortblock - a .030 over factory D1VE block, forged 4.5" crank, 6.8" scat h-beam rods, ARP 2000 series rod bolts, dished forged Diamond pistons with custom valve reliefs for both Kaase P-51 and conventional heads, Total Seal plasma moly file fit rings, Clevite H series bearings, Durabond cam bearings, sfi flexplate, sfi balancer, internally balanced
-1969 DOVE-C heads, ported - 2.250 intake valves and 1.720 exhaust.
-Custom Bullet Racing Solid Flat Tappet cam - 260/269 @ .050, 640/640 lift (WIPED LOBE)
-Roller rockers
-Trick Flow (TFS) new "Mafia" intake
-Chrome valve covers from stock 429
-March aluminum crank pulley (stock size 5.0L) and alternator pulley and belt
-Meziere 35GPM electric water pump (#WP108S) and backing plate - both black anodized
-Stock 429 oil pan
-SFI flexplate
-SFI balancer
-Spark plugs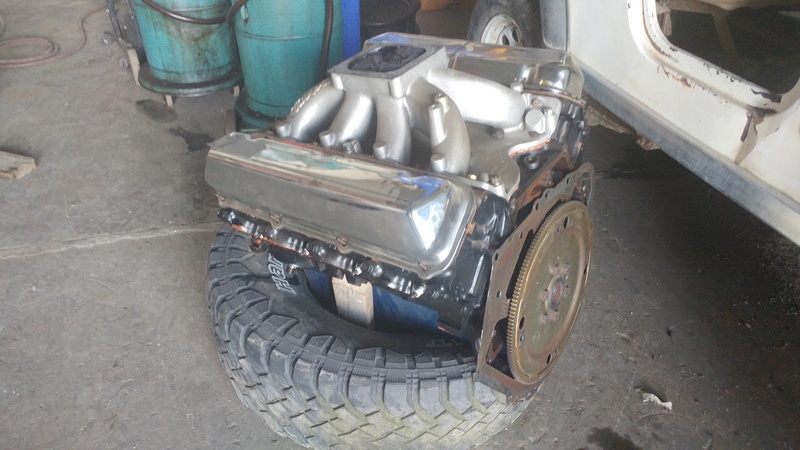 Last edited by BuckeyeBOSS on August 13th 2018, 6:44 pm; edited 1 time in total



Posts

: 160


Join date

: 2009-08-20


Age

: 33


Location

: Wyoming/ North Dakota



What brand crank? Was there any damage to it when the cam lobe got eaten?



Posts

: 92


Join date

: 2016-02-02


Location

: SE Michigan



AS Performance crank. Motor hasn't been torn down yet.
Sorry, google doesn't know, can I ask who AS performance is?

Are you willing to ship the motor?



Posts

: 2


Join date

: 2018-08-02



Sorry, AD Performance here:
http://www.adperformance.com
I was quoted $800 shipping and packaging from Ohio to Florida for the long block, that's with insurance and lift gate service at both ends.
Carb and accessories sold. Thanks wickettoby1, good to meet you!
BuckeyeBoss is an honest seller and a nice guy too boot, i would buy from him again.
Last edited by wickettoby1 on August 13th 2018, 8:13 pm; edited 1 time in total



Posts

: 92


Join date

: 2016-02-02


Location

: SE Michigan



On the torque converter- what does API stand for? Couldn't find anything on it. Or was that a typo ? Also are the feet set for standard location or set out for use with mid plate?



Posts

: 210


Join date

: 2015-12-05


Location

: Birmingham, Al



Api Racing Transmissions & Torque Converters was the company, I believe out of Canada.

Not sure about the feet. Is there a picture or measurement I can take for you?
Feet appear to be threaded in the pic so I could just use a spacer thats not a big deal. Will have to do some more digging later on the api part. Never heard of them that's all. Thanks for the quick response.



Posts

: 210


Join date

: 2015-12-05


Location

: Birmingham, Al



Holy crap! $800 to Florida, I'm near Seattle which is twice the distance, the money I'm saving on this just goes into shipping. Good luck on the sale, this looks like a good deal to me, I'm just too far away!




Posts

: 2


Join date

: 2018-08-02




---
Permissions in this forum:
You
cannot
reply to topics in this forum