Been a while since I have posted anything.
Finally got my 1975 F250 running after a downtime of 6 years.
Rebuilt 429 to almost Cobra Jet specs.
Put a ZF-5 trans in and needed a solution for the speedo that won't adapt from the orig truck to the ZF.
So here is my solution right from Ebay.
A digital dash gauge set. With a GPS Speedo.
Trying to post / add jpeg photos?
Help?
Bob
Tucson
You must have a later model ZF. I have a 92 trans behind mine in a 67 truck that has a speedo gear in the trans.

Someone makes a conversion to do this without going to a digital dash. Unfortunately I cant remember what called.
BBF CONTRIBUTOR





Posts

: 1161


Join date

: 2009-02-07



Trying to add a jpeg and get this message
Uploaded file is not valid: exceeded attachment maxsize (0 kB).



Posts

: 3685


Join date

: 2009-08-10


Age

: 45


Location

: New Orleans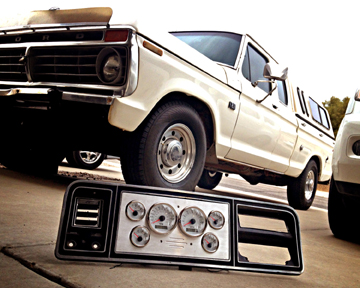 Finally got photos to load pic shows panel prior to installing. Got aluminium panel from Boese Engeneering on Ebay.
Shot shows backside with the wiring and small assesory fuse panel got at Autozone.
Pretty easy to install. Just takes time. Used a 12v test lite and a digital volt meter
to trace and check the wires that were disconnected from the original panel.
Installed! Easy no major hurdles. The angle of the panel is just a little awkward but still looks good. Its a little hard to see the speed
when driving because of the installed angle.  Got the GPS Speedo kit on Ebay with all guages for around $230.00.
As soon as I hooked up the speedo and went for a drive the speedo was almost right on.  So far I'm not quite sure how to calibrate.
Maybe some could post a procedure for this.
Sure looks good at nite!
Bob
Tucson
Next step is to hook up the fuel sender wires.
At this point I'm almost over my head. Not quite sure how to wire for the fuel gauge. The kit did come with a complete sender for the tank also.
I had to buy a new rear tank and sender prior to getting the kit.  Let the truck sit for about 6 years befor getting it running again and the tank rusted out.  

The gauge kit came with all the gauges and senders except I don't think it came with a magnetic sensor for the Tach.
I think I need to purchase it separately.
Sweet looking truck. The gauges look nice too. The fuel sender should be pretty straightforward as long as the gauge is set up for the same resistance as the factory gauge. Or you may have to use the sender that came with the gauge



Posts

: 3685


Join date

: 2009-08-10


Age

: 45


Location

: New Orleans



I got this one for my 1979 f-150. Price was right, comes with new senders for the oil pressure, water temp, and speedo adapter. Is available in four colors.
https://www.ebay.com/itm/For-Ford-Courier-73-79-Intellitronix-Direct-Fit-LED-Digital-Gauge-Panel-Blue/302854510375?fits=Model%3AF-150&epid=9025308983&hash=item4683891727:g:4JAAAOSw8WdbfX~Y&frcectupt=true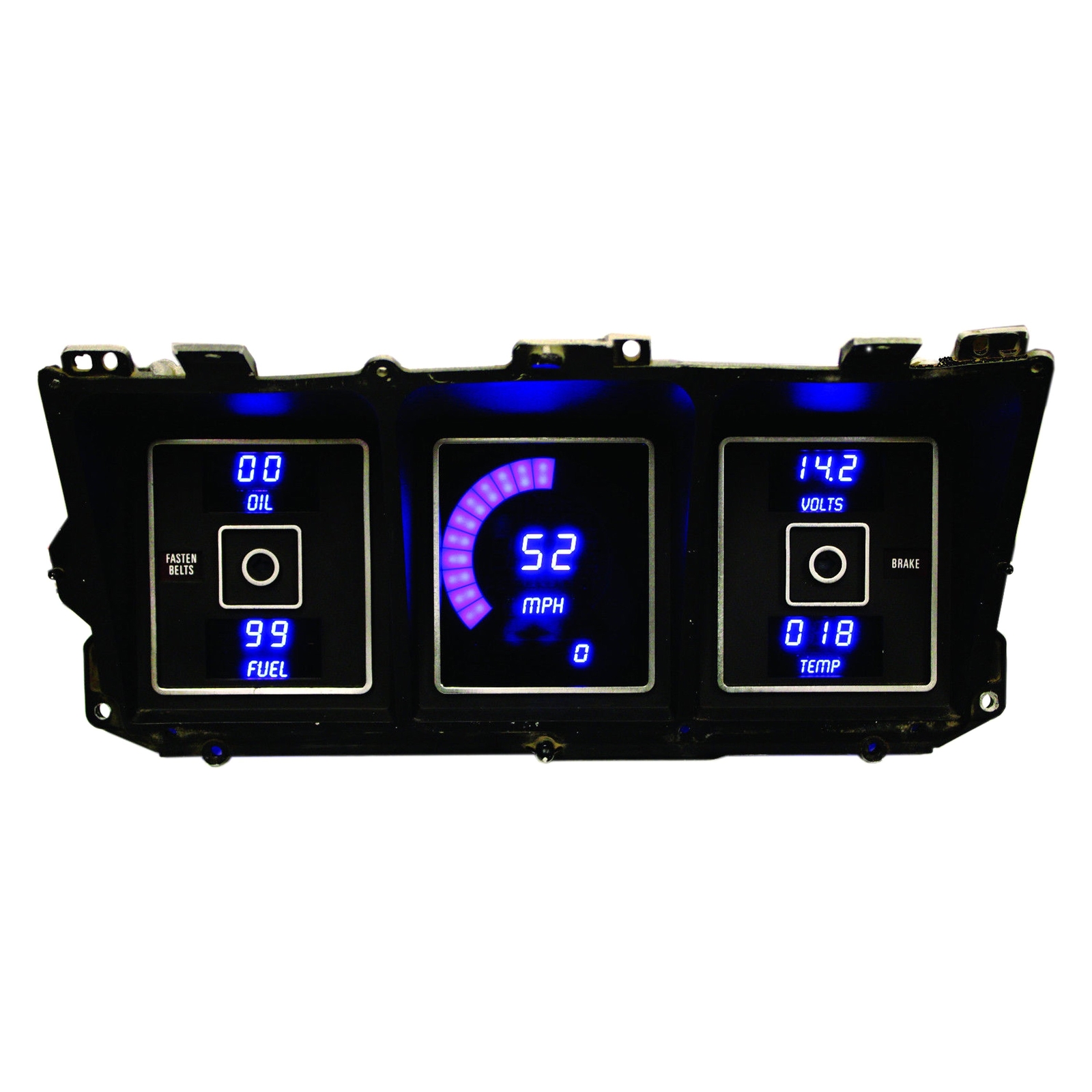 I haven't installed it yet, waiting for the weather to warm up.
Jess



Posts

: 432


Join date

: 2011-12-04


Location

: Central New York. The state, not the city.




---
Permissions in this forum:
You
cannot
reply to topics in this forum