Ford's Hemi "The Original Hemi"
Ford's hemispherical "Hemi" heads were designed by Zora Arkus-Duntov and were produced in 1947, this was five years before Chrysler built their 331 FirePower "Hemi" in 1951. Ford built this engine and installed them in trucks, specifically for London's garbage trucks that required more torque. The Ford Hemi engine was also installed in Brazilian cars up till the mid 80's. It was also an optional engine option in Allard's.
The 1950s had flathead Fords and Mercurys on fuel dominating Top Eliminators in the early days of organized drag racing. One well known racer that ran nitromethane before or during the nitro ban was Bob Alsenz. Bob ran a rail out of Lakewood Automotive, racing in California Top Eliminator events at tracks like Saugus, Santa Ana, etc. Alsenz had a rare Ardun cylinder headed combination on his Mercury flathead. The unique combination ran one of the first nine-second elapsed times at over 150 miles per hour. Alsenz's official clocking was a 9.98 at an amazing 159.01 mph that came in 1957. That engine is similar to the legendary Ardun/Mercury V-8 drag race engine made famous by T. "Sooey" Suenega of Hawaii Motor Republics in 1955. The engine was featured in the October 1957 and August 1960 issue of Hot Rod Magazine.
Why Mercury? When it comes to Flatheads, the sought-after crankshaft by hot rodders is the four-inch stroke Mercury version. Ford installed it in the 239 to produce 255ci, and it can be safely over-bored to 274 or pushed to 286ci. The crank can be identified by the clean-out plug in the front of the crankshaft which measures 5/8" on the Mercury crankshaft as opposed to 3/8" on the Ford crankshaft. These 4" crankshafts came in the 1949 to 1953 engines and was only used in Mercury cars, and heavy service trucks.
No automatic alt text available.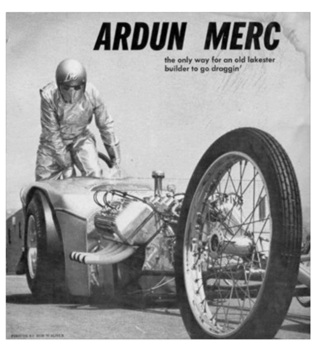 res0rli9

BBF CONTRIBUTOR





Posts

: 3351


Join date

: 2008-12-02


Age

: 73


Location

: sarasota FL.




Mike R




Posts

: 1381


Join date

: 2009-08-05


Age

: 62


Location

: St Paul Mn



The converted Hemi "Ford flathead" came long before that; probably sometime in the 30's.
England used several as pump engines during the beginning of WWII before the USA was formally in the war.
---
Permissions in this forum:
You
cannot
reply to topics in this forum