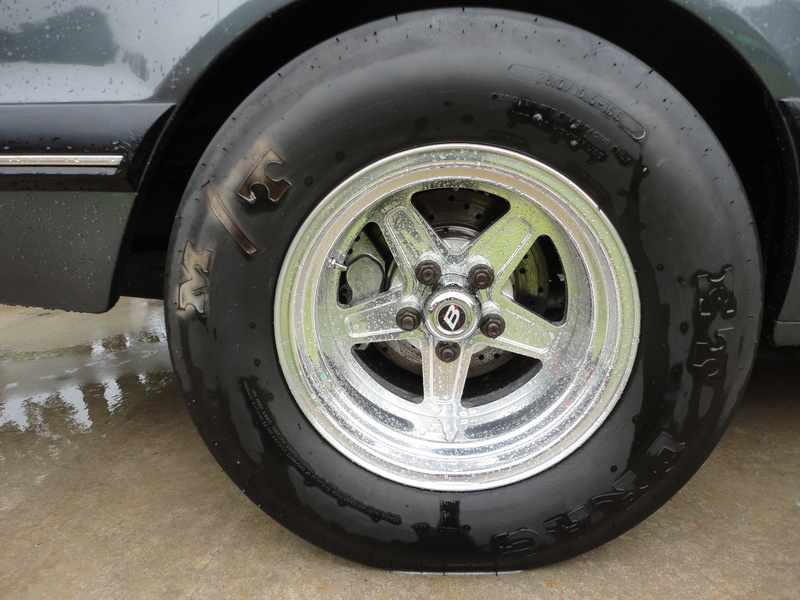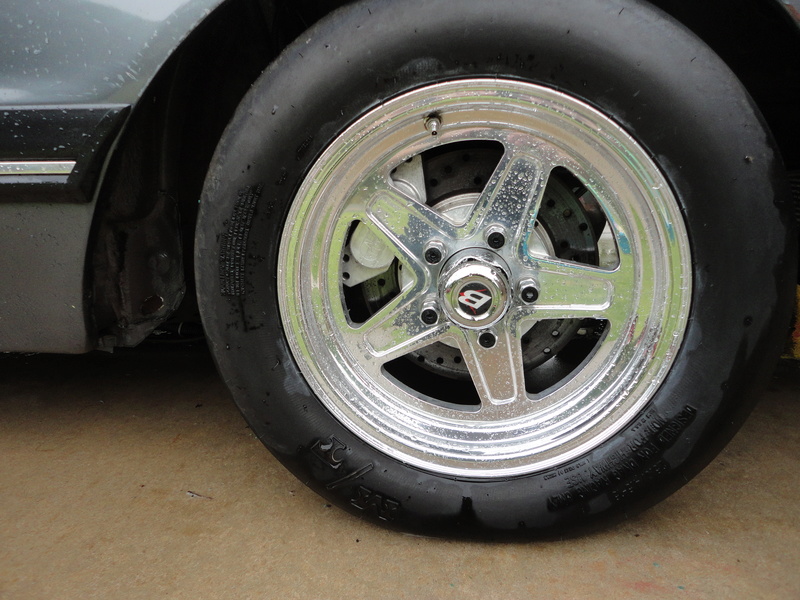 [/url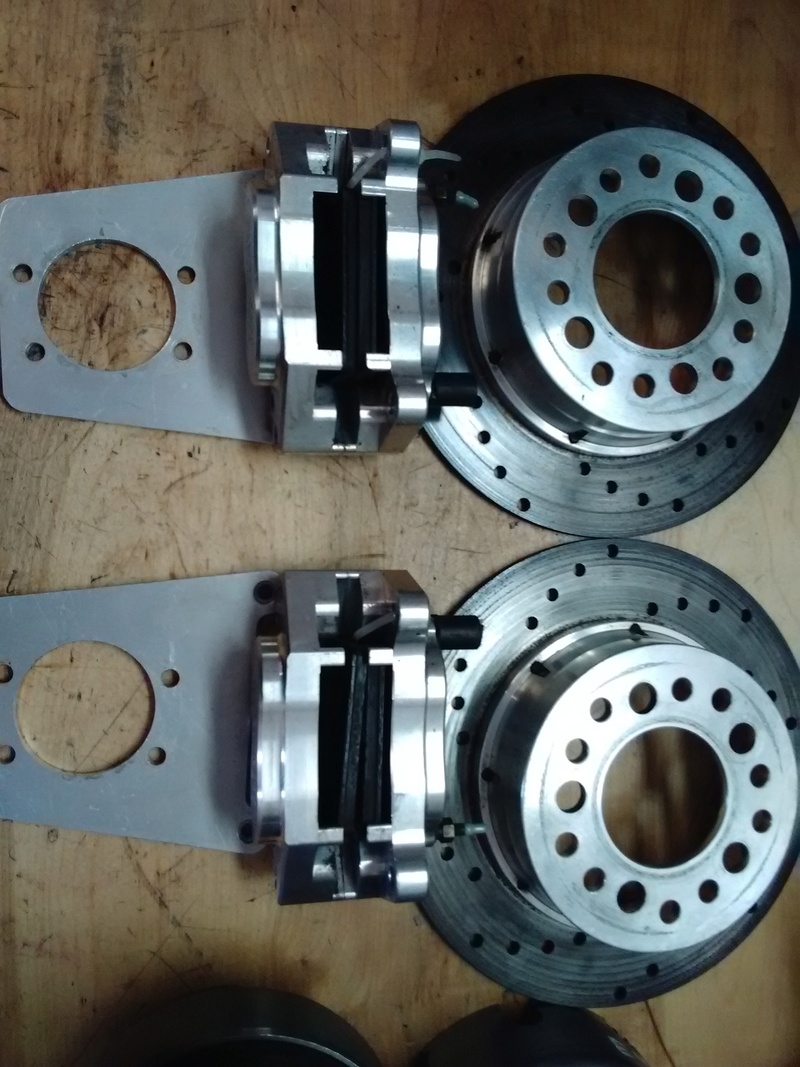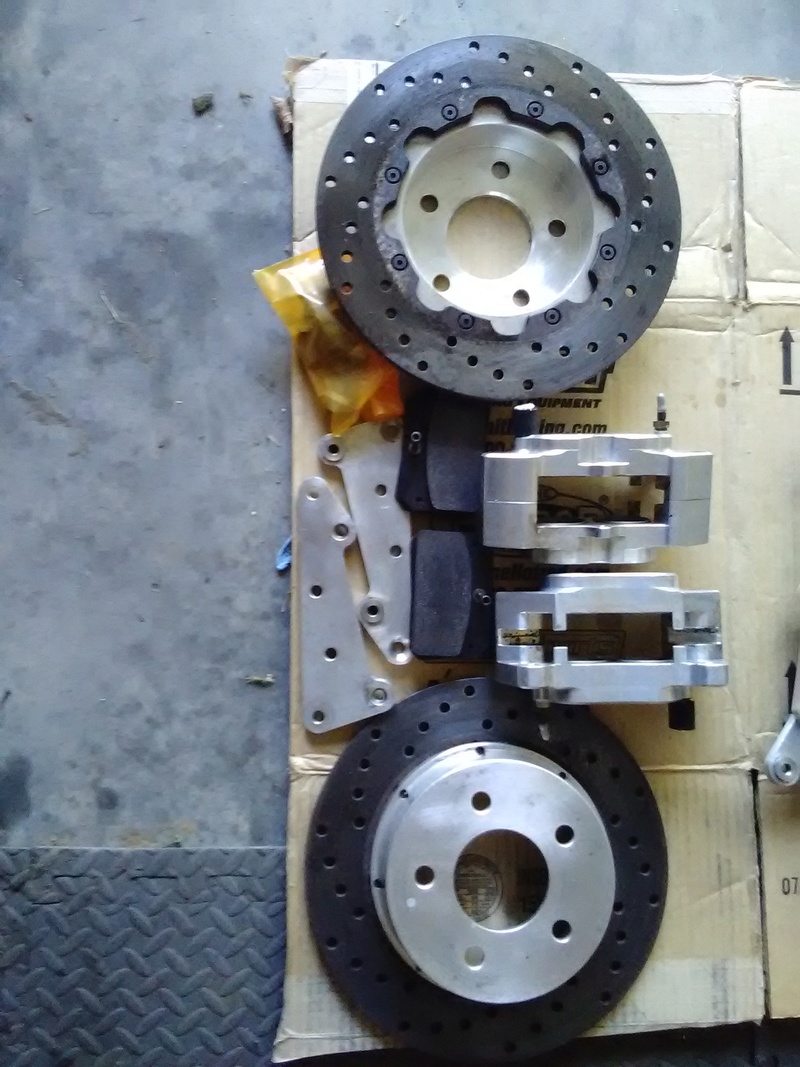 9 inch Ford 31 spline eaton  Detroit Locker 187sl17b has 2.890 bearings on it now that are in excellent shape. This locker has been used about 1500 street miles and 30 plus passes Cost was 525 new 250.00 Sold
mickey Thompson 28x10.5x15 stiff sidewall measure between 5/32 &6/32 tread i used them for 5 passes 250.00 NOW 225.00
Mickey Thompson ET Front Runners 25x4.5x15 125.00 SOLD SOLD SOLD
Aerospace rear disc brakes for 8.8 rear end with c clip eliminators and 5 lug 5/8 stud 11 ⅜ rotors  cross drilled 4 piston Billet calipers part number ac-546  new price 659.00 pads show less than .0100 wear. It will also work  with 9 inch with .250 offset and correct brackets I  bought them when i changed to 9 inch ends on my 8.8 and i think it the cost was 60.00 $430.00---NOW 400.00
Aerospace front disc brakes 5 lug Hub type for 1994 to 2004 Mustang part number ac-251  11 ⅜ rotors cross drilled brake 4 piston Billet
calipers  pads still measure .470 factory width. You have to modify the factory spindle for the Aerospace bracket bolt to. I am considering taking a set of spindles in on trade for the ones that I have already modified. It has  to be the straight tie rod end mount not the one that is dropped down for the tie rod end mount was 830.00 new i will take 550.00---NOW 500.00
Bogart r/t wheels 15x10x5.5 backspacing 5 lug 4.5 bolt circle one wheel has a groove from gravel trapped between  brake caliper and wheel rich at bogart gave it a clean bill of health. 849.00 each new 800 for the set---NOW 750.00
Bogart r/t wheels 15x5x2 inch backspacing 5 lug 4.5 bolt circle 350.00 each new  500.00 for the set---NOW 450.00
CONVERTING MY TBIRD DRAG CAR BACK TO A STREET CAR SO I AM LOOKING FOR PARTS ALSO AND WILLING TO TRADE AT THIS TIME I NEED A FOXBODY OIL PAN FOR A 460 AND HEADERS FOR A FOXBODY WITH A 460 CJ FLANGE STOCK PORT LOCATION FRONT SEATS COMPLETE WIPER ASSSEMBLY. 8.8 LOCKER 3.90 OR 4.10 8.8 GEARS AND A LOT OF PATIENCE
forgot to add price does not include shipping  will be from 72801
Last edited by 70429scj on September 22nd 2016, 10:04 am; edited 3 times in total (Reason for editing : LOWERED PRICES)
I have a nodular factory 9 inch, do the bearings fit
I meant to ask if the detroit locker bearings are compatible with a factory 9 inch nodular.
Pm sent on front brakes and tires.



Posts

: 535


Join date

: 2009-04-03






Posts

: 337


Join date

: 2009-08-18


Location

: Kent CIty, MI



I received the detroit locker and was packaged good and communication was great. Thanks
thanks, joe would like for the rest of it to go.



Posts

: 676


Join date

: 2012-12-25


Age

: 55


Location

: Naples, Florida



mines a 88 with 32 thousand original miles still has factory paint that looks as good as my 06 stang couple pcs with the different hoods  only thing really missing is the factory front seats. don't have time for full time bracket racing so were are going to change to a 460-c6 and leave all the trick suspension under it put the heater core box back in it and have some fun driving to the track and running the 7.00 index specials at our track and hitting the car shows with the grandkids that I'm now rasing we still have the old 70 torino if we need to get down and dirty it looks rough and will leave you with mouth open as it packs the wheels on a set of mt street radials and to think that's maw maws slow car.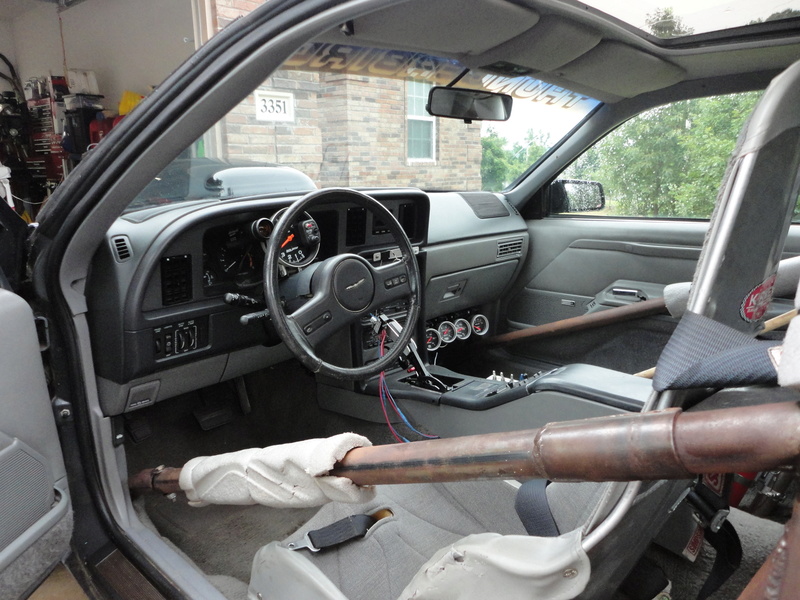 ---
Permissions in this forum:
You
cannot
reply to topics in this forum