Back in 2010, I dropped a 545/C6 in this car and after a little learning curve, it was fantastic.  I had a ton of fun with it. I took it on Drag Week 2011, 2012 and 2014, with differing levels of success/failure.  After one such failure, I updated it to a 552 and it ran 10.teens @ 133 easy peasy.  
When my kids started getting older, I decided to let them build their first motor, a basic 302 and we swapped it back to a small block.  We went to the junkyard and grabbed T5 for it and in 2018 my oldest son and I took it on Rocky Mountain Race Week.  It was an n/a 302 and ran like one. It was the first passes Jake had ever made on a drag strip so even though we had a nitrous kit on it, we kept it simple and left the bottle at home.  We had a great week, car ran good and Jake got better and better at launching and rowing that T5.  Later that year we used the nitrous a little and it was a blast, but dang nitrous was expensive.  2020 was my youngest son's turn to go on RMRW and as it was approaching, we decided to change to a low buck turbo setup.  We bought an ebay hotside, a GT45 turbo, and converted the carb to a blow thru.  We had a great week with Judd trying to break everything from the throttle cable to the transmission. Haha.  We finished the week with a wounded T5 but with huge smiles on our faces.  We eventually converted it to efi and threw in a free AOD.  Best pass was an 11.70 @ 120.  No transbrake meant we had to leave off basically zero boost, which was ok.  It did what was expected of it and until a few weeks ago, we planned to use it on RMRW 2023.  
I started to grow concerned that the AOD was becoming unhappy (2-3 shift was not confidence inspiring under power) and I was kinda worried the stock bottom end might not like seeing 12 psi over and over during the week.  Jake commented that maybe we should throw the 552 in. (same bottom end and block as before but with a different cam and heads).  This is the same engine I was running in the yellow F250 with a single turbo.  I sold the truck but kept the engine/trans.  I still had 99% of the pieces to put it back in, so the decision was made.  
I pulled the 302/turbo setup out am in the process of getting the 552/C6 ready to go in.  It will be run by the same Megasquirt efi system that worked so well with the turbo 302.  I needed a carb spacer for throttle linkage clearance so I went ahead and slipped the nitrous plate in there.  I don't think we will spray it on Raceweek unless it is just a total turd.  Even so, I think a 100 shot will be all we would do.  
Anyway here are a few pics of the current progress.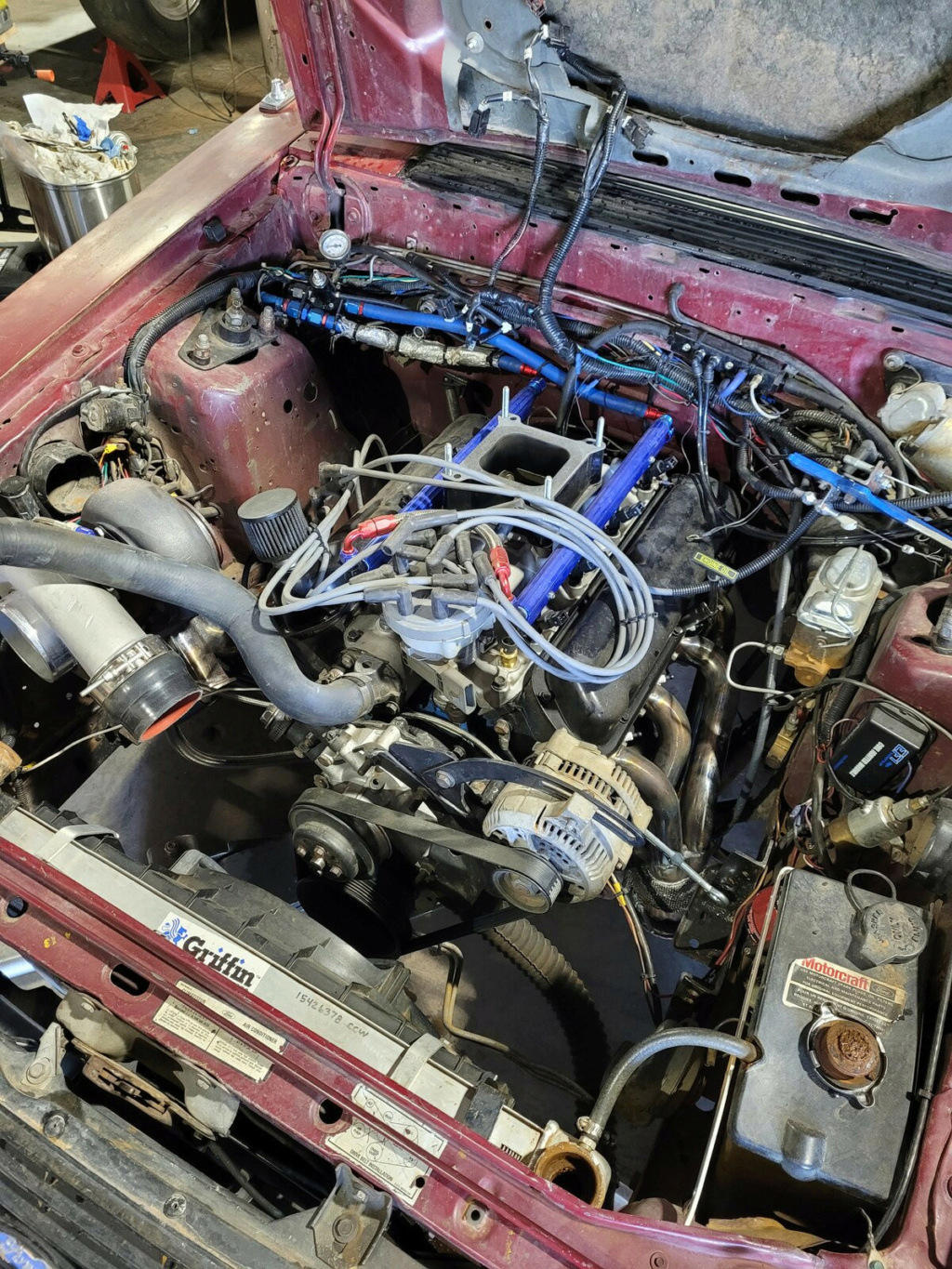 Last edited by BigBlockRanger on March 16th 2023, 3:27 pm; edited 1 time in total

BigBlockRanger




Posts

: 980


Join date

: 2008-12-02


Age

: 52


Location

: Amarillo




BigBlockRanger




Posts

: 980


Join date

: 2008-12-02


Age

: 52


Location

: Amarillo



windsor, Mark Miller, hbstang and 1982GT like this post

BigBlockRanger




Posts

: 980


Join date

: 2008-12-02


Age

: 52


Location

: Amarillo



Curt, windsor, Mark Miller and 1982GT like this post
Basic rundown of the 552:
4.5" cast RPM crank, RPM H-beams, Probe forged pistons. With these D3 heads (cleaned up intakes and smog bump deleted exhausts) it is right around 9.6:1. This intake is the same efi converted Victor I used in the truck. The throttle body will be the same 1000 cfm Mass-Flo (Pro-M) 4bb one the turbo 302 had on it. The cam is a Lunati Barebones hydraulic cam.
Cam specs: 0.536" / 0.567" 224/233 @ 0.50" 293/293 advertised 112 LSA ICL 107

I would love to swap the cam to something with a bit more duration, but I think I will leave it alone for RMRW. I can always do it later.

Converter is a Hayes 2400-2800 that worked well in the truck. It may be a little tight in this car, but that is probably a good thing for the mountain driving part of this trip. Particularly since we will be pulling the little trailer.




BigBlockRanger




Posts

: 980


Join date

: 2008-12-02


Age

: 52


Location

: Amarillo



Mark Miller and 1982GT like this post
Cool to see it's still alive

dfree383

BBF CONTRIBUTOR





Posts

: 14663


Join date

: 2009-07-09


Location

: Home Wif Da Wife.....



BigBlockRanger likes this post
Been out of town for what seems like a month! We got back yesterday and I finally got to play in the shop again.
The 45 deg fittings and the trans cooler came in while we were gone.
The 45's keep the crossover hose in tight to the distributor and look nice.
I partially installed the biggest trans cooler I have ever run in this car. I figure with the trailer and the mountain drives, it probably needs a decent cooler.
Then again it is a C6. I could probably just loop the hoses and not run a cooler at all and it wouldn't care. Haha.
I am still dying to swap cams.....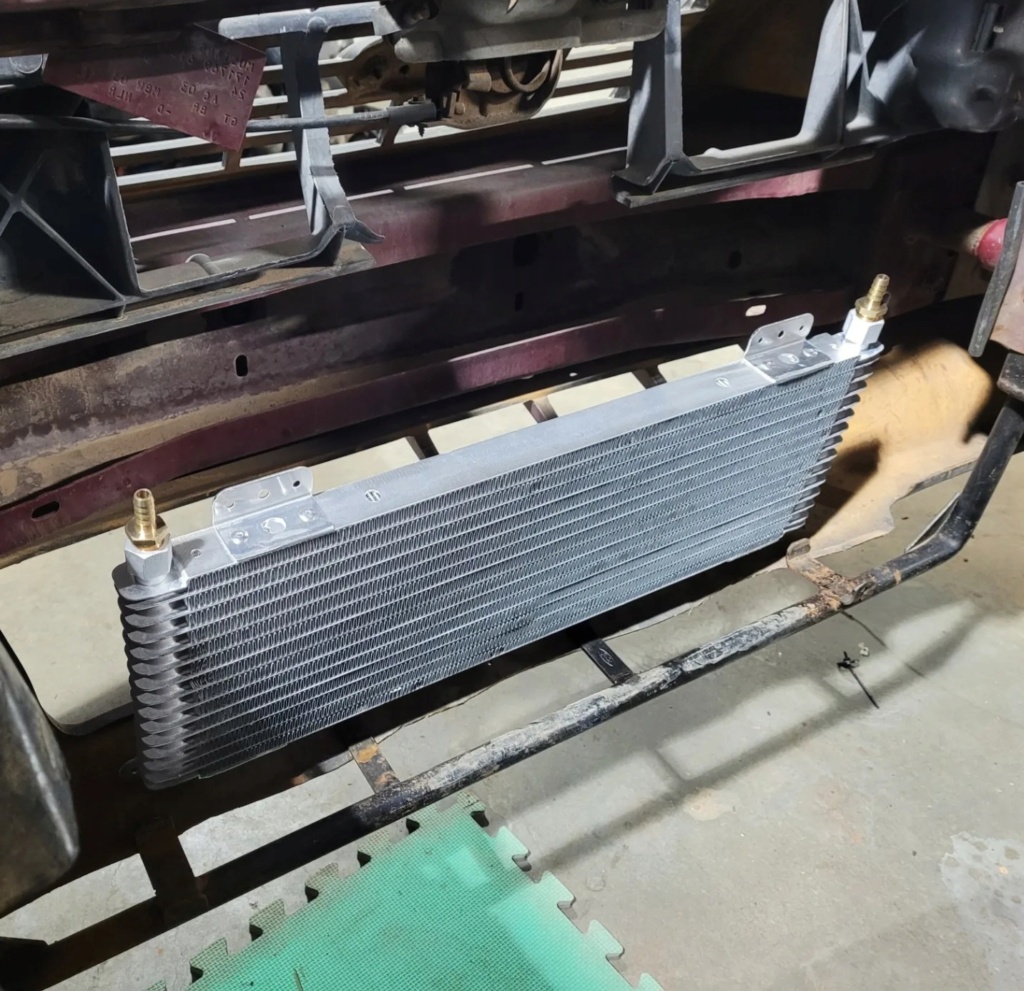 BigBlockRanger




Posts

: 980


Join date

: 2008-12-02


Age

: 52


Location

: Amarillo



Mark Miller likes this post
Good evening in the shop. 

I tied up a lot of little things:

Plugged O2 bung that is too close to the trans pan
Cleaned up evac tubes that had boogered threads
Swapped to reverse shift pattern plate in the shifter
Cleaned the floor under the car
Finished mounting the trans cooler
Plugged the turbo return fitting on the oil pan
Test fit one of Jake's 15x10 wheels.  (Didn't work, too much backspace)
Removed steering shaft
Installed transmission mount
Put the plug wires on it
Installed the motor mounts on the engine
Cut off a couple of bolts that stick thru the firewall
Wrote a new startup tune for it that should be ok to get it running.

and I may or may not have ordered a different camshaft for it....

BigBlockRanger




Posts

: 980


Join date

: 2008-12-02


Age

: 52


Location

: Amarillo



Mark Miller likes this post
---
Permissions in this forum:
You
cannot
reply to topics in this forum